Open 8pm - 2am
365 Days a Year!
21 and Over Only
Valid ID REQUIRED for Entry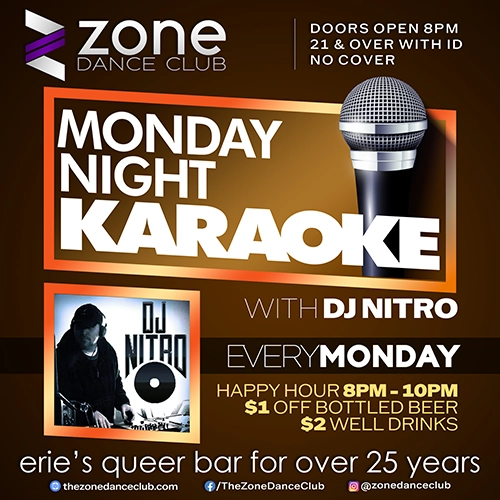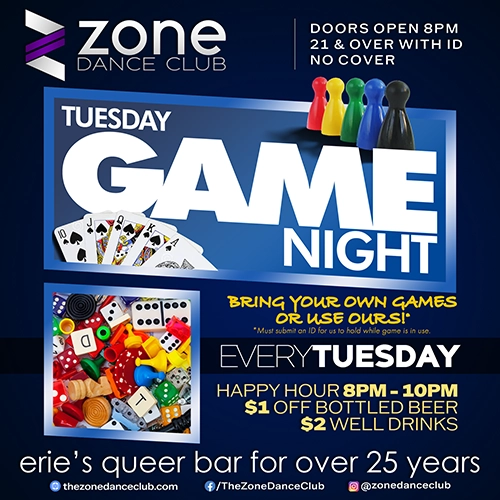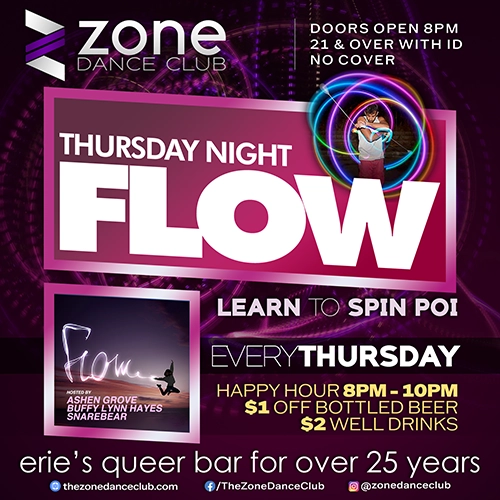 TONIGHT

at the Zone

Friday, December 1st
---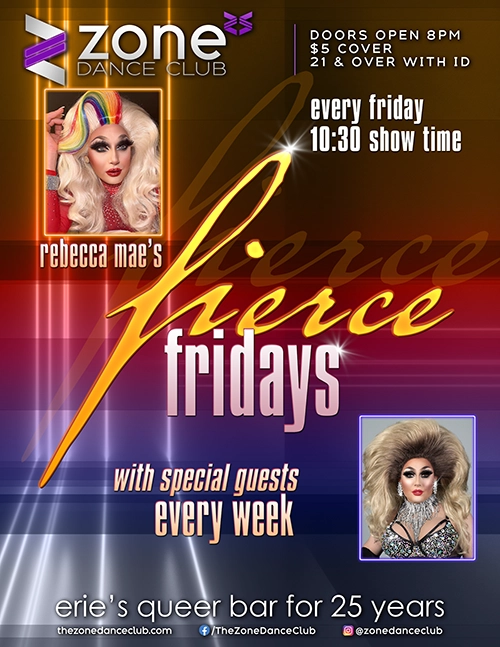 Doors Open at: 8pm
$5
Rebecca Mae's Fierce Fridays
with Alysin Wonderland and Snarebear
Every Friday night, join us at the Zone Dance Club for an unforgettable evening of fabulousness, hosted by the one and only Rebecca Mae. Tonight's special guest host, Alysin Wonderland.
Doors open at 8pm and the show starts at 10:30pm.
---
Upcoming

Events
---
Happy Birthday

to

Us!
Erie's Zone Dance Club: A Milestone - 25 Years of Queer Community
Erie's Zone Dance Club, a symbol of queer community and celebration, proudly marks its 25th year. This venue's enduring journey began in November 1998 as new owner Bob Regan transformed the Embers into The Zone, which continued to serve Erie's LGBTQ+ community. After six years of resounding success, The Zone moved to its present location at 133 West 18th Street, formerly "The Village," another cherished gay bar. The club is a constant presence, open 365 days a year, with only brief interruptions during COVID-19 and the unforgettable 2017 Snowmageddon snowstorm.

Beyond a mere bar, The Zone offers a welcoming haven for Queer individuals. With its diverse clientele, vibrant drag shows, spacious dance floor, and weekly events, it's a home away from home. The staff's remarkable bond has created a heartfelt, if occasionally 'dysfunctional,' community, and many patrons are integral to it.

The Zone's impact extends through its collaborations with Erie LGBTQ+ organizations like Compton's Table, and Greater Erie Alliance for Equality (GEAE), and NWPA Pride Alliance, establishing itself as a vital social hub that fortifies and unites the local queer community.

Special events adorn their calendar, including the annual Pink Party, celebrating its 18th year in 2023, the glamorous Miss Erie drag pageant, and weekly shows headlined by beloved local talent. Their grandest celebrations take center stage during Pride, Halloween, and New Year's festivities. Through their journey, they've navigated obstacles, faced the loss of friends and family, and confronted hatred and abuse, emerging as a steadfast and unyielding community.

Looking ahead, The Zone is committed to ongoing improvements in their establishment and aesthetics, creating an even more welcoming and inclusive space for the LGBTQ+ community. Visit The Zone Dance Club at 113 West 18th Street, Erie, PA, or stay updated through their website, thezonedanceclub.com, and Facebook page, fb.com/thezonedanceclub. Cheers to 25 years of love, acceptance, and fabulous fun at The Zone!


---
Congratulations

Shea D'Heaux
Congratulations Shea D'Heaux
Miss Erie 2023
What a night to remember! The Miss Erie 2023 drag pageant was an absolute blast, brought to us by The Zone Dance Club, GEAE (Greater Erie Alliance for Equality), and NWPA Pride Alliance. Former Miss Erie, Misty Michaels Kall, hosted the show with flair, and we were treated to mind-blowing performances from Misty herself and other incredible former queens: Rebecca Mae, Indi Skies, Valerie Valentino, Danyel Vasquez, Buffy Lynn Hayes, and the fabulous Debbie, who passed on her crown as Miss Erie 2022.

The spotlight was on fire as this year's contenders – Snarebear, Alysin Wonderland, Cherry Falwell, Katrina Twerk Island, and the one and only Shea D'Heaux – lit up the stage with their unique talents. These queens truly brought their A-game and made the judges' job a tough one.

Hats off to The Zone staff for pulling off such an amazing event. And let's give a round of applause to the judges who had the challenging task of picking a winner from this pool of talent.

When the dust settled, Shea D'Heaux emerged as the new Miss Erie 2023, and the crowd went wild. It was a night of pure fun, creativity, and community love, showing Erie's LGBTQ+ spirit at its finest. Huge congrats to Shea D'Heaux and all the contestants for a night that'll be talked about for ages!