---
FRIDAY
JUNE 24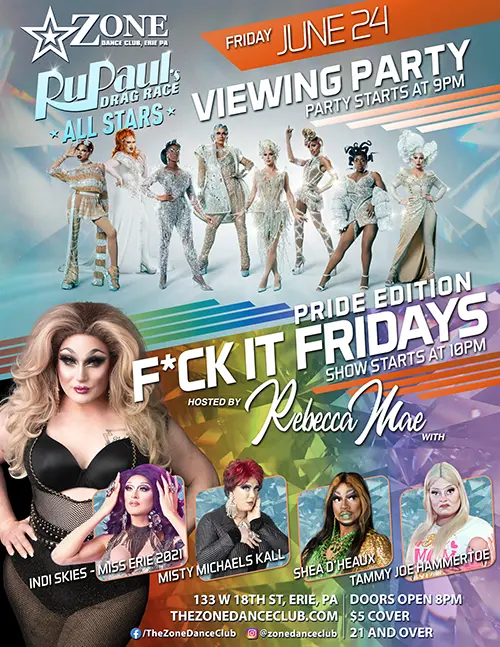 F*CK IT FRIDAYS
Hosted by Rebecca Mae
Zone Dance Club
Start off your Pride Weekend celebration with a bang at the Zone Dance Club. Join us for a special Pride Edition of F*ck It Fridays! We start the night with the RuPaul's Drag Race All-Stars All-Winners Viewing Party and follow up with F*ck It Fridays with Rebecca Mae! This week, we have Rebecca and FOUR of your favorite queens performing for your pleasure. This week we feature Misty Michaels Kall, Shea D'Heaux, Tammy Joe Hammertoe, and Miss Erie 2021, Indi Skies!
Doors Open at 8pm
Viewing Party Starts at 9pm
Drag Show Starts at 10pm
$5 Cover - 21+ with Valid ID
---
SATURDAY
JUNE 25
PRIDE PARADE & FEST
Hosted by DJ Tony G, Kate Neubert-Lechner
Perry Square - Downtown Erie, PA
Sponsored by: Safe Journey
Presented by: The Erie Playhouse
We are Back and Bigger than Ever! Everyone is welcome to join us as we march for Pride 2022. Gather at The Zone Dance Club on W 18th St from 11am-Noon and step off to march to Perry Square at Noon. Once at Perry Square, we will have info tables and vendors and performances by local drag artists and other performers on the Safe Journey Mainstage. Free HIV/STI testing and health screenings will be available in the Central Outreach Erie Health and Wellness Zone. Finally, we will include a first-ever Youth Zone, thanks to our Partners at the Erie Playhouse. This zone will include inflatable children's rides, a story corner, etc.
Performances include: Debbie, Misty Michaels Kall, Alysin Wonderland, Katrina Twerk, Pissi Gabune, Priscilla Godzilla, Shea D'Heaux, Tammy Joe Hammertoe, Snarebear, and Vivian Vendetta-Sinclaire
This event is family-friendly and open to all ages at no cost.
This event is also tobacco-free, thanks to our partners at Erie County Health Department and the NWPA Tobacco Control Program.
---
ALL AGES POST-PARTY
Hosted by Rebecca Mae
VooDoo Brewing Co - Downtown Erie, PA
Performances by: Rebecca Mae, Vivian Vendetta-Sinclair, Shari Turner, and Pissi Gabune
Family Friendly Event
4pm - 7pm
---
OFFICIAL AFTER-PARTY
Hosted by Rebecca Mae
Zone Dance Club
Continue the party at Erie's Premier LGBTQ+ Hot Spot, The Zone Dance Club! Join friends and chosen family with drinks, dancing, and a few surprises. Pop-Up performances by Rebecca Mae, Michelle Michaels, Pissi Gabune, Priscilla Godzilla, Alysin Wonderland, and Shea D'Heaux!
Doors Open at 4pm

No Cover Until 8pm - $5 Cover After 9pm - 21+ with Valid ID
---
SUNDAY
JUNE 26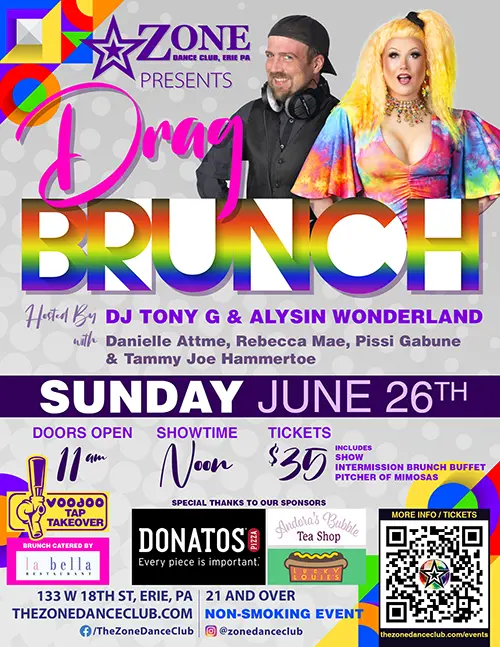 PRIDE DRAG BRUNCH
Hosted by Tony G & Alysin Wonderland
Zone Dance Club
Sponsored by:
Donatos Pizza, Andora's Bubble Tea Shop, and Lucky Louie's Beer & Weiners
Pride wouldn't be Pride without a Drag Brunch. The Zone Dance Club has it covered with their 2nd Drag Brunch. Hosted by DJ Tony G and Alysin Wonderland with special guests: Danielle Attme, Rebecca Mae, Pissi Gabune, and Tammy Joe Hammertoe.
Doors open at 11am. Showtime 12pm.
Buffet catered by La Bella will be available during intermission.
Tickets are $35. Included in ticket prices are the show, brunch buffet, and mimosas.

Click Here for Tickets!
VooDoo Brewery will be taking over our beer taps for this event. Full bar service will also be available.
Sponsored by Donatos Pizza,

Non-Smoking Event - 21+ with Valid ID
---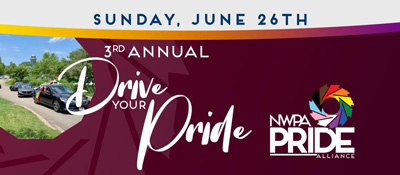 DRIVE YOUR PRIDE
Presque Isle State Park
Join NWPA Pride Alliance for a Pride-filled Drive around the beautiful Presque Isle State Park!
Please gather in the final two rows farthest from the building. Make sure any decorations are secured as littering is not tolerated. No stopping once the drive has started except for wildlife and pedestrians crossing.
Decorate your car or vehicle as your personal parade float--flags, streamers, signs, be creative! Just make you are able to safely obey all the rules of the road! We will all drive together around the Peninsula.
Meet at the parking lot of the Tom Ridge Center at 1pm and then "step off" at 2:00pm
Event will be rain or shine.
This event is not affiliated with the Tom Ridge Environmental Center.
---